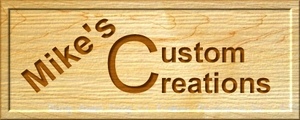 Custom
Wood
(mostly)
Products
About Mike's Custom Creations and Mike
Mike's Custom Creations is a registered business, and is GST/HST registered as well.
Mike's Custom Creations (the business)
Mike's Custom Creations is a fairly new business. The main business activity is manufacturing wood products, but I can also work with other materials, like glass, plexiglass, metal, and more. The ultimate business plans are twofold. Sales of premade products in a store, and making of custom products. I also do repairs and refinishing. A small store was opened in the Settlers Ridge Centre in Smiths Falls (formerly known as County Fair Mall) on November 1, 2017. It's currently just a small assortment of things I have made for display and sale. Plans are to gradually increase my inventory, and eventually get a bigger store. Products will be sold, and orders placed, at the store or online. You can also come to my house/shop by appointment to discuss your needs. The store will only be open part time as I spend other days in my shop. Store hours can be seen on this site's front page. The store address is 275 Brockville St, Smiths Falls, Ontario, Canada. (Google map)
Mike Secord (the owner and woodworker)
I, Mike Secord, am from the end of the Baby Boomer generation. I've enjoyed working with wood since I was a child, about 40 years, taking after my father. I also got into home renovations at a young age, and made that my primary business when I was 20. I've thought about doing woodworking as a business many times, then in spring of 2016 I decided it's time to at least start. My woodworking, (Mike's Custom Creations), and home renovations, (Quality Home Renovations), are both currently active, but my dream is for the woodworking to eventually take over as the main business.
If you have any questions, requests, or suggestions email me at or "contact me".
Website Content ©2021