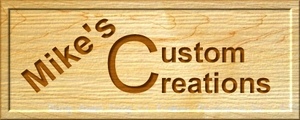 Custom
Wood
(mostly)
Products
Woodworking For Kids
Would you like to let your child have fun working with wood? Several Kids Workshops have been done, and kids had fun. As of March 3, I'm back in the Settlers Ridge Centre mall in Smiths Falls.

Due to the worldwide Coronavirus outbreak, the store is temporarily closed and group workshops are on hold, so I decided to offer workshop packages you and your child can do at home.
Parent/Child Woodworking Fun
You and your child get to make, put together, or decorate and finish, something made out of wood, and your child gets to keep it. I have a variety of workshop options. Some are more complicated, and for older children. Some are simple, and for the little kids. Some projects have flexibility in how much to do, and are fun for any age. A 2 year old can glue or stick things, or color with pencil crayons, markers, or water paints. A 16 year old can do a little drilling, nailing and screwing, and get more creative with the finish work.

Workshop packages include all the parts you need to assemble a project, and instructions. Extras like wood letters, googley eyes, etc, little paint kits and brushes, and even some tools, can be included as requested.
Current Schedules and Fees
In store group workshops will be scheduled once conditions allow the store to be opened again.
In the meantime, you can do projects at home with your child.
If you have any questions, requests, or suggestions email me at or "contact me".
If your email provider has spam filtering, please check your spam folder later for replies if you don't see something in your inbox.
Website Content ©2021