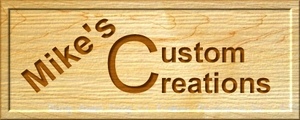 Custom
Wood
(mostly)
Products
Custom Orders
anything you want, almost
I can make almost anything you want, or you can buy from my selection of products and have it customized and/or finished any way you want. I even work with glass, plexiglass, metal, and more.
Customize:
Many of the products I will be making can be customized, like size or features. Whether you want a smaller or larger version, or a simpler or more complex version, I can do that. I can also make whatever you want, even if I don't have it in my inventory. I can work from a completed design, or from your imagination, but you have to tell me what you're imagining. ;-)
Finish:
There are several ways to finish a wood product. Not all options are suitable for all products, but I can help with that. The most common finish options are:
- paint (any color and finish you want) show color wheel
- stain (keep the wood finish, but change the color) show stain colors
- clear finish (varnish, polyurethane, lacquer or shellac - gloss, semi-gloss, satin)
- oil (food grade - used for cutting boards - you don't want paint or varnish in your food)
- unfinished (you finish it any way you want)
Various combinations are sometimes done, like with stain, it's usually covered with a clear finish to protect it, or a one step stain/protect product is used.
Painting is always primer and 2 or more coats of paint.
Unfinished products are sanded, ready for you to finish.
If you have any questions, requests, or suggestions email me at or "contact me".
Website Content ©2021