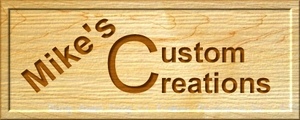 Custom
Wood
(mostly)
Products
Aspiring Models Wanted
children and adults
Mike's Custom Creations is a new business that sells wood products. We currently have a small line of products, and will be adding more regularly. Most of the pictures we have at this time show just the product, but some products sell better with pictures showing them being used. To do that, we need models.
What is a model?
A model is a person who is paid to be photographed with a product to show a product in use. You see them in catalogues and advertisements everywhere. A model needs to be someone who doesn't mind being seen by the world, and a child model needs his/her parents permission and must have a parent or legal guardian present during photo shoots.
What age/gender do you need?
We need all ages, from infant to adult, male and female.
How much work is there?
The work is short sessions, 1 to 2 hours, and as needed for new products as they are made. This won't be a job to pay bills with, just a little extra spending money for you or your child, and the fun and experience of being a model. If you or your child are interested in being a model, the photos can be used for your portfolio.
How much do you pay?
Pay will be $20 for 1 hour or $30 for 2 hours for 1 person. If I'm using 2 or more people in the same session, i.e. you and 1 or 2 of your children, or 2 or more of your children, the pay will be 50% more. How you divide the money is up to you.
When does the model get paid?
You get paid at the end of the photo session.
Are you a model photographer, or do you hire a model photographer?
I am not a model photographer, but am a self-trained photographer. I even teach photography basics now and then. (see photographycourses.net)
I do the photo shoot.
Do I have to sign a contract?
Yes. I have a contract/model release that needs to be signed before I can use the photos, and before you get paid.
modelling contract (adults)
modelling contract (children)

Do I get a copy of the photos?
I take multiple shots of each pose and pick the best ones for actual use. You get a USB flash drive with all the original photos.
Who has the rights to the photos?
You and I will both have full rights. I have the rights to use the photos for business, AND you are free to do what you want with them, BUT, the rights to the products in the photos belong exclusively to me, Mike's Custom Creations, so you do need to be careful what you use the photos for. You are free to give copies to family and friends, or use them in a portfolio, but they can not be given to someone in a competitive business to give them product ideas.
Where are you located?
We are located in Eastern Ontario; Athens, Ontario, Canada, to be exact. Driving time is ~20 min North of Brockville, ~30 min South of Smiths Falls, ~1 hour East of Kingston, and ~1 hour and 15 min Southwest of Ottawa. If you like traveling, our models can be from anywhere, but we do not pay for travel expenses, so generally anyone more than 1/2 hour drive from here would only be coming to give their child, or themself, some modeling experience, unless we need a model for more than 1-2 hours.
If you have any questions, requests, or suggestions email me at or "contact me".
Website Content ©2021