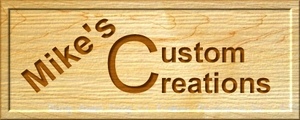 Custom
Wood
(mostly)
Products
Order From Our Current Line Of Products
We carry a small, but growing, variety of products, and can make just about anything you want.
The Ultimate Guarantee - lifetime details here
Prices are in Canadian dollars.

From here, you can order products I have already made, with your own choice of material, finish, and more. This section is new, and products will be added gradually.

In the meantime, feel free to "Contact Me", or come to one of the craft shows I'm attending, to look at my current inventory, or discuss ordering anything. You can buy anything currently available, or you can order a variation of anything I have made, or you can place a custom order for anything you want on my "Custom Order" page.
>> Order one of these products, made to your specifications.
Production time for most items is 1 to 4 weeks. Each item will give a more specific time range.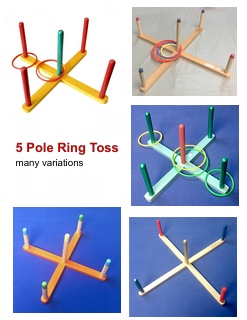 5 Pole Ring Toss
ages 4+
$20 regular size or $18 smaller size
Current special to help support the family of Chantale Lebrun - $12 from every sale goes to them
insideottawavalley.com
5 pole + ring toss available in whatever colour posts and base you want, and a variety of colours and sizes of rings.
Options: specify when ordering
• post colours and coverage (whole post of just the tip)
• base colour or unfinished
• ring size and colours
Order 5 Pole Ring Toss
Production Time: 1-2 weeks
Family Celebrations Plaque
$57.75
Hang disks under the appropriate month for birthdays, hearts for anniversaries, and more shape options to come later. Includes 12 hearts and 24 disks.
Options: specify when ordering
• Style - Curved ends (top one), angled ends (bottom one), square ends, or rounded ends
• Wood species - many options
• Finish - varnished, stained, painted, etc
• Choose your colours for the lettering
Order Family Celebrations Plaque
Production Time: 2-3 weeks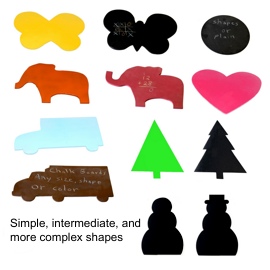 Chalkboard Shapes

ages 2+

$6-$18

depending on shape and size


Any shape and size you want, cut out of 1/4" hardboard, and finished with any color paint you want. Each side can be a different color for a small additional charge. You can even choose to make one or both sides dry erase instead.



Options: specify when ordering
• board shape
• board type (chalkboard, dry erase board, or both)
• colour or colours

Which size would you like?
Order Regular Chalkboard
(shape fits within 8"x10") $6-$12
Order Large Chalkboard
(shape fits within 12"x16") $9-$18


Production Time: 1-2 weeks


Ordering for other products will be ready soon. In the meantime, feel free to contact me to order anything.
mike@mikescustomcreations.net


All children's toys and games are made with their safety in mind, and are age rated. Read our "Safety Statement" here.

If you have any questions, requests, or suggestions email me at or "contact me".



Payments can be made by cash, cheque, money order, Interac transfer, Paypal, or credit card. Credit card payments are processed through Square.


Website Content ©2021